 1. New Featured Artists & Photographers
New artists and photographers this summer include Joe Boyle, photographer, http://www.joeboylephotography.com/, Meg Whitehill - Condo, photographer, http://megcondophotography.com/, and artist Shawn Hunt.
The current works of Michael Barnes, Ilse Deel, Seth Fisher, Deb Ross, and Richard Smith are on display and for sale.

3. Unique Jewelry
The talented and gifted hands of Brownie Haracivet and Deb Ross have created the most whimsical and unique jewelry to grace our gallery. This jewelry fits and wears well with both the casual and sophisticated fashion designs.
Andean Artisans is a small Peruvian business created to help educate young people, while developing their skills and talents and assisting them with employment opportunities.
The wire used in the jewelry is called Alpaca, which uses low-grade silver, nickel, and other metals. The wire can tarnish or darken, but can be easily restored to its brilliant shine with laundry detergent.
The earring hooks are silver plated; however, we can special order gold plated, pure silver, or pure gold. Contact us to request prices for special orders, or if you have any other questions at jmkreider@juno.com.
Objects, such as a souvenir, memento, or heirloom, can open the gates design possibilities. Since objects can vary in size and depth, choose a frame moulding that is deep enough to contain the object. Here again, objects can be framed individually or grouped, such as a collections of rare keys and locks. To learn more about framing objects or to see examples, then click objects.
Nearly anything can be framed in some fashion, turning a house into a home filled with personality and unique treasures. Clever framing designs can even help resolve storage issues, using fabric and small hooks, jewelry can be displayed when not in use. To learn more about framing objects or to see examples, then click new and unique ideas.
New Gift Certificate Program
We are adding a new gift certificate program in early 2013. Watch for more information in the coming weeks.

New Website Format
We have updated out website design and content. Watch for addition improvement in the coming weeks.

New Jewelry Displays
We have now have more jewelry on display. Stop by to see what's new and interesting.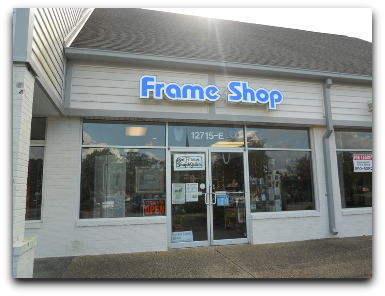 Closed December 24, 2016.
Closed December 30 - 31, 2016.
Closed January 13 - 21, 2017.
Tuesday - Thursday, 10:00am - 6:00pm
Friday, 10:00am - 5:00pm
Saturday, 10:00am - 3:00pm
Sunday, Monday and Holidays, Closed

12715-E Warwick Blvd,
Newport News, VA 23606